Already 83,902 Downloads
Your Internet browsing habits are your own business!
Prevents spying
Deletes Internet Traces
Effective advertising blocker
29.90 €
Version: 2021 (v. 2021.4.07)
---
Windows 10, Windows 8.1, Windows 8, Windows 7
---
Immediate use after purchase
Free Support
Made in Germany
Overview of all functions
Data protection with one click
With just one click, the different browsers are provided with the most optimal protection functions.
Stealth Mode
The UserAgent text is changed regularly so that the "browser fingerprint" can no longer be assigned.
Remove Internet Traces
Without much effort and with a single mouse click, AntiBrowserSpy can delete traces and data.
Integrated ad blocker
With the new browser extension you permanently switch off advertising and tracking in your browser!
Browser backup
The backup function can make backups of all data from Internet Explorer, Firefox, Chrome, Opera, Safari and Netscape Navigator.
Ready to go in any browser
Supports the following browser: Google Chrome, Mozilla Firefox and MS Edge.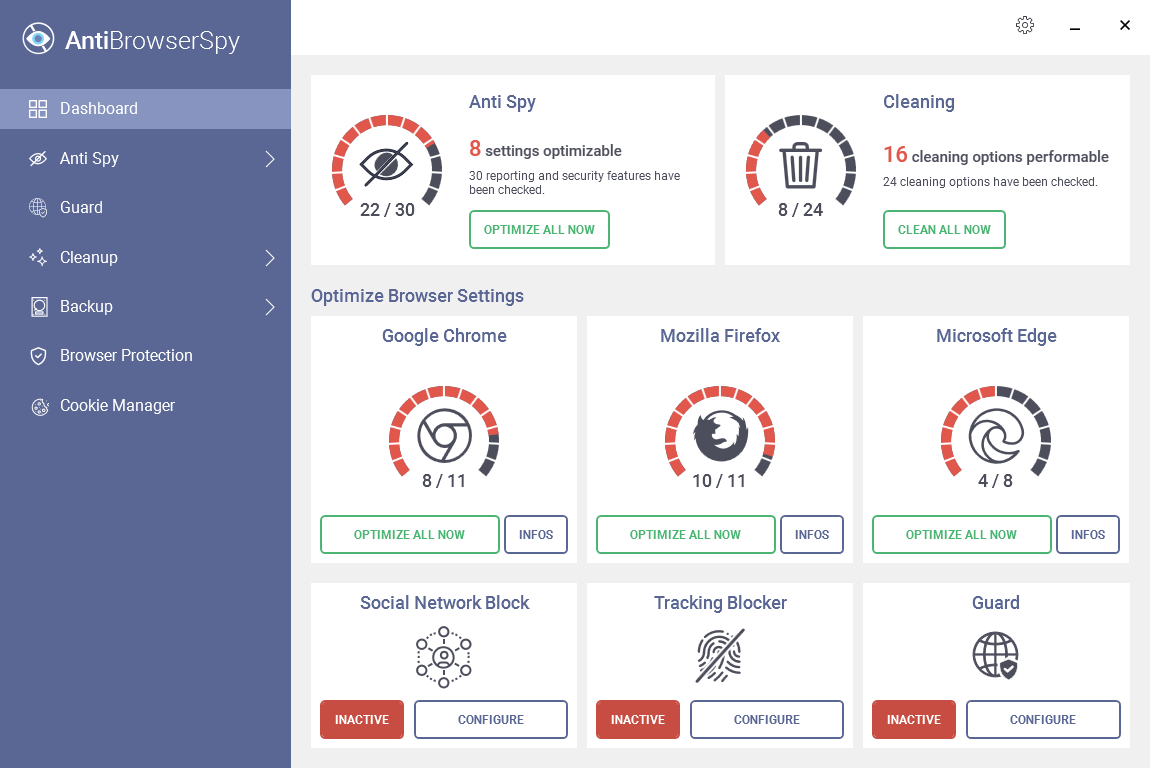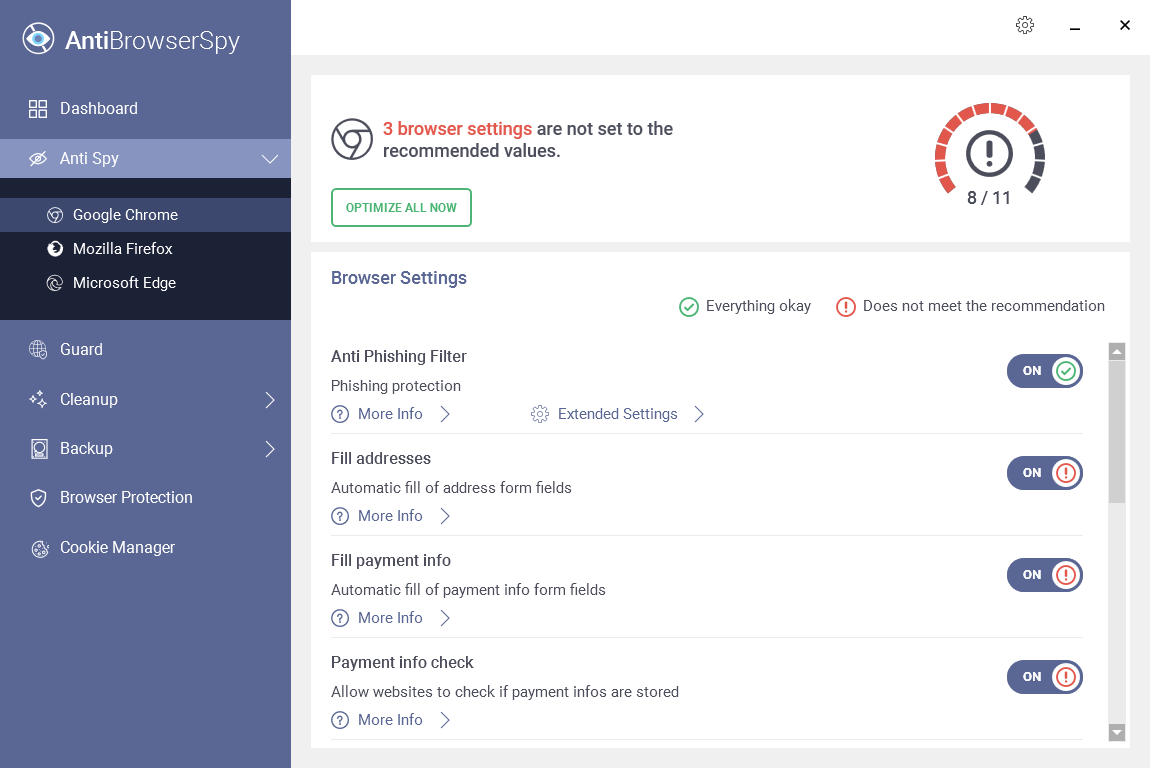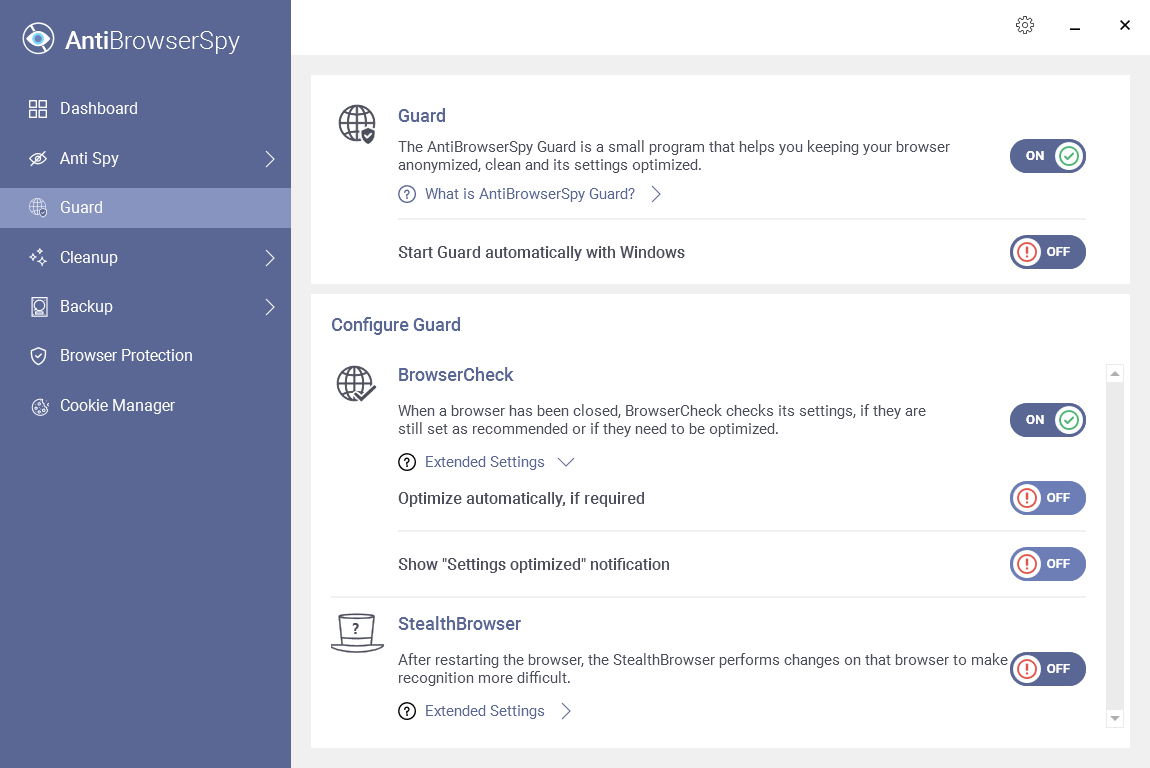 Settings for anonymous surfing at a glance
In the start area of the program the anti-spy settings are optimized and the traces are cleaned by using the browser.
AntiBrowserSpy switches off spying in the browser
As soon as we surf the Internet we are being monitored and spied on. By means of cookies and tracking, the online services called up can automatically determine from which country a visitor comes, what operating system is used and which browser is used. Our Windows tool AntiBrowserSpy dries up the involuntary data flow and sets up a muzzle for the web browser. This works with the three most common browsers: Microsoft Edge, Google Chrome and Mozilla Firefox.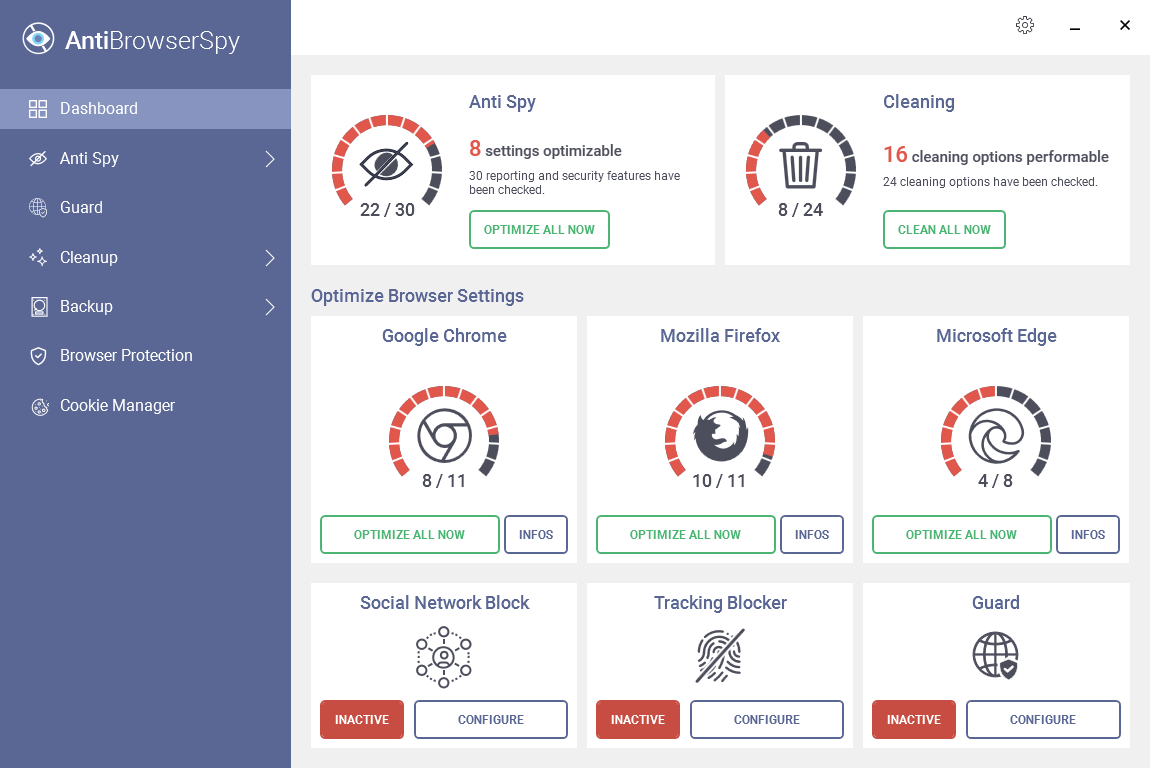 AntiBrowserSpy prevents the browser fingerprint
The browser cloak of invisibility of the tool prevents the browsers: Internet Explorer, Firefox and Chrome, that the user is recognized based on his typical browser "fingerprint". A Google Analytics Blocker and a local browser cleaning (cache, cookies and history) complete the range of functions. In addition, the integrated BrowserCheck checks after each surfing session whether something has changed in the browser settings, for example due to an update, and informs you immediately if there are any deviations. For this purpose, the program supports users with the "Do not track" function, which signals websites that neither the user's activity should be tracked nor a user profile created.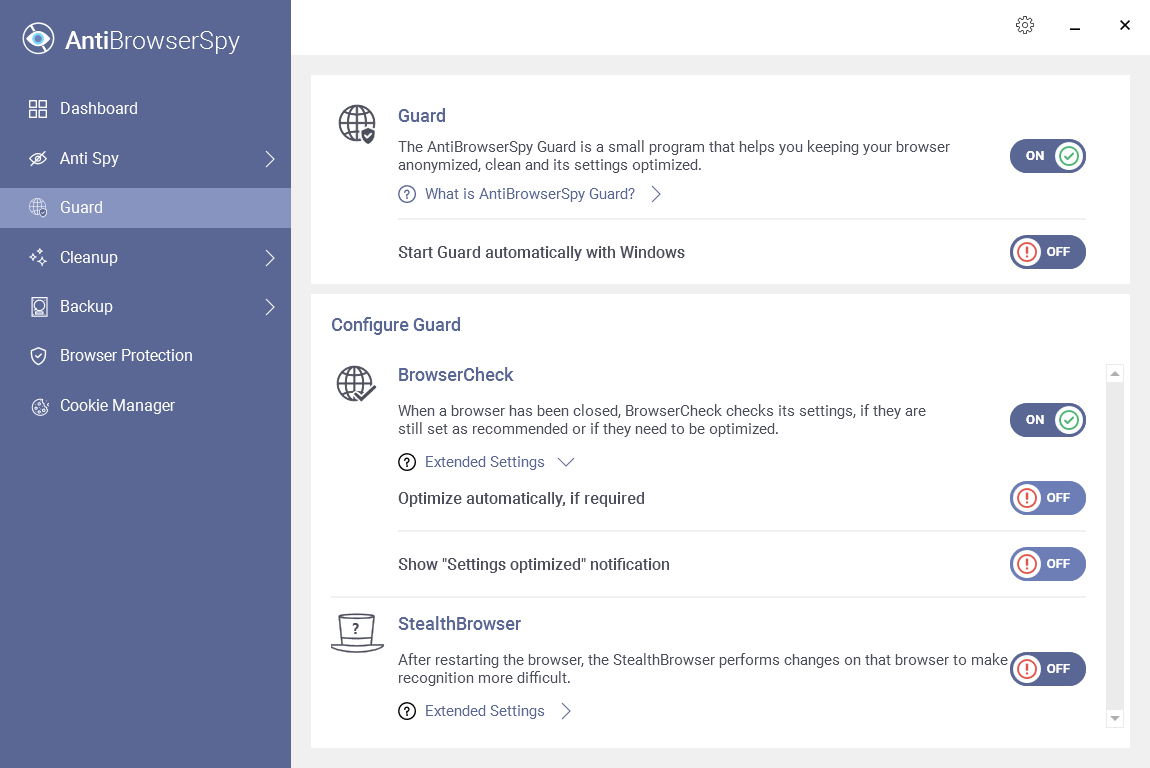 Your advantages in the Full Version
Unlimited usage
It's yours.
We're there for you
Free email support.
Don't miss out
6 months free updates & new versions.
Trial Version limitations
Limited 30-day trial period, purchase dialog when closing the program
What the press thinks of us

PC ADVISOR
AntiBrowserSpy prevents your web browser from returning data to its creator, whether that's a unique ID or details of the website you visit. AntiBrowserSpy can also remove traces of your interent activities and perform a backup or your settings.
PC Advisor

DownloadCrew
Verdict: A versatile security tool which makes it much easier to monitor and maintain your browsing privacy.
Download Crew
What is said about us
With AntiBrowserSpy I finally have a tool that incorporates every important internet security feature.
Subscribe now
Subscribe to our free newsletter now and benefit from exclusive offer.
We respect your privacy, so we never share your information.
You might like these too
Our Services for you
Try it for free
Safe Shopping
Download now
Free E-Mail Support